With our deep technical know-how, we assist e-commerce firms with agile, customizable, and deployable solutions making them compete in the evolving market scenario and cope with customer choices. Our experts are well versed with e-commerce platforms such as Magento and Drupal, which are efficient technologies for end-to-end services.
With utmost IT innovation and data intelligence, we are the best retail and e-commerce solution provider company, driving digital retail initiatives to make the organizations handle fluctuations in the markets, customer segments, and sales on various channels such as mobile and social media.
Our solutions are intended for a rich experience, guaranteed outcome, and agility.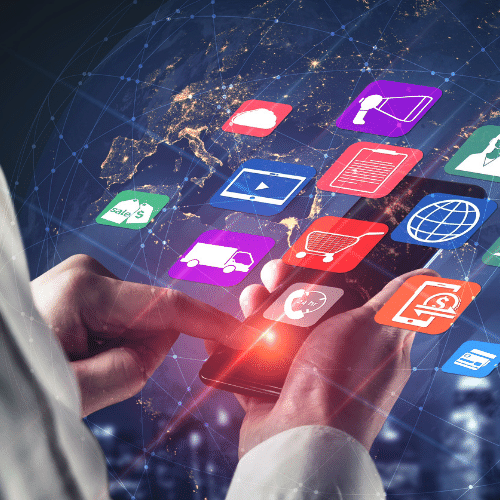 A Complete Guide

to

Online Stores
For companies launching their online sales, TransformHub is a dependable installation and consulting partner. We have been developing portals, and we support the clever application of technology to revolutionize the conduct of e-commerce.
Digital commerce is essentially the online sale and purchase of products and services. Despite the fact that there is a remarkable increase in customer demand for online shopping right now, the industry is extremely competitive, and firms must continually strive for excellence to remain resilient. With the help of its technical skills and problem-solving methodology, TransformHub, the top digital transformation company in Singapore, can help your company make positive and observable improvements that will save costs and increase revenue. Our goal-oriented methodology is renowned all around the world.
.
Our Consumer Goods and Retail Offerings
B2B & B2C
E-Commerce
Our B2B and B2C solutions are devised in the best business models and making the business platform usable. The demand for a digital presence from multinational manufacturing, distribution, and retail companies is met by ecommerce software development. To create the most effective ecommerce software, TransformHub chooses from a variety of development approaches, including platform-based, headless, and microservices-based ecommerce development.
User Experience and Journey Creation
With user journey mapping, we help companies gain insight into the users' experience of your product, based on their business goals. We develop B2C websites with an appealing user interface, acceptable personalization, on-demand scalability, and high conversion potential based on a comprehensive examination of your company environment.
Inventory Management
We take on sourcing, storage, and selling inventory and deal in both raw materials and finished goods. We take care of keeping track of the whereabouts, volume, cost, and variety of the inventory that your company has on hand. The e-commerce component takes into account the requirements of an online retailer who would have to monitor inventories for several online sales channels.
Product Listing
We take care of the important product information to be listed on the product for success in the marketplace. Whether you have tens or thousands of goods, TransformHub will help you make them live instantly. Your clients will see your items exactly how you intend them to, with effective variant management and a comprehensive catalog at your disposal.
Order Processing
We take care of all the stages of processing of the orders involved in the fulfillment of the order. By eliminating the inconvenience of putting your items on different marketplaces one at a time, we assist our clients in saving about 70% of the numerous hours spent merely on listing.
Marketplace Integration
We connect product data and inventory with the marketplaces in real-time for seamless customer experiences with your products. We build marketplaces for goods and services based on various approaches to seller interaction, order processing, and revenue management. Three target parties; marketplace owners/admins, sellers, and end users, our marketplaces are convenient for all.
Promotions and Advertisements
We work on timely campaigns to persuade customers to purchase your product or service as a marketing strategy. You may sell through many sales channels and reach a wide range of clients in a single effort with the right promotional methods. And greater sales always translate into higher profits!
.
Our Offerings
We offer tailor-made services for e-commerce, and retail businesses with scalable solutions that streamline sales & checkouts and ultimately improve consumer engagement.
Order Tracking
Keeping an eye on the order status. By centralizing all your order tracking in one place and processing each one from beginning to end, order management software reduces the likelihood of manual errors that waste time. With end-to-end process automation, all potential manual inefficiencies may be eliminated.
Loyalty Management
Customer acquisition and retaining. To help companies across all sectors recognize and encourage loyal consumers, we provide multi-channel personalized loyalty rewards solutions that offer prizes like gift cards, discount coupons, cashback, digital punch cards, and more.
POS System with Barcode Integration
Automating the manual cash counting process. To increase sales, streamline operations, and provide your customers with a wonderful experience, create the most flexible point of sale system possible. We have been developing eCommerce solutions for around ten years and have a thorough understanding of the retail sector.
Refund Management
Hassle-free returns and immediate refund processing. Connect your customer care, warehouse, and financial departments to a returns site that everyone can use to say goodbye to spreadsheets and lengthy email threads. Control the whole return process. From a single platform, you can create returns, note the cause, simply adjust stock, and issue refunds.
Get in touch with our experts to get your queries resolved.
Need a Reliable Method for Developing Ecommerce Software?
You have your ecommerce software with TransformHub:
suited to your company plan

integrated with your omnichannel operations and your business processes

providing a consistent consumer experience throughout your sales channels
Launch Your Ecommerce Portal with TransformHub
As of right now, 250+ businesses worldwide have used TransformHub's expertise to start a web presence. Being the best ecommerce solutions provider, and the top digital transformation company, a complete consultation and a development relationship is what we provide.
Ecommerce consulting
A specific go-to-market plan.
A review of the viability of your e-commerce project.
A solution requirement definition that details all business goals and technical capabilities.
A diagram of your IT environment for automating business workflows.
Ecommerce development
Your e-commerce site has been designed and personalized to meet your needs.
All business processes related to your e-commerce strategy are automated.
To facilitate customers' transfer to the online world, profiles of your present client base and their history data are immediately converted.
Contact Us
We are always open for a discussion