Banking & Digital Lending
Whether it's strict laws, harsh rivalry, or rapidly changing client expectations, the banking and financial services industries are experiencing unparalleled forces of change. As a result, financial institutions are attempting to deploy the finest Banking IT services in order to increase client loyalty, improve operational efficiency, and maintain regulatory compliance.
Many large Fortune 500 and mid-sized banking and financial sector firms have relied on TransformHub's technical and domain knowledge for their specialized outsourcing needs at various phases of the project lifecycle. TransformHub's Best Digital Transformation Solutions takes accountability for the financial sector and meets its requirements.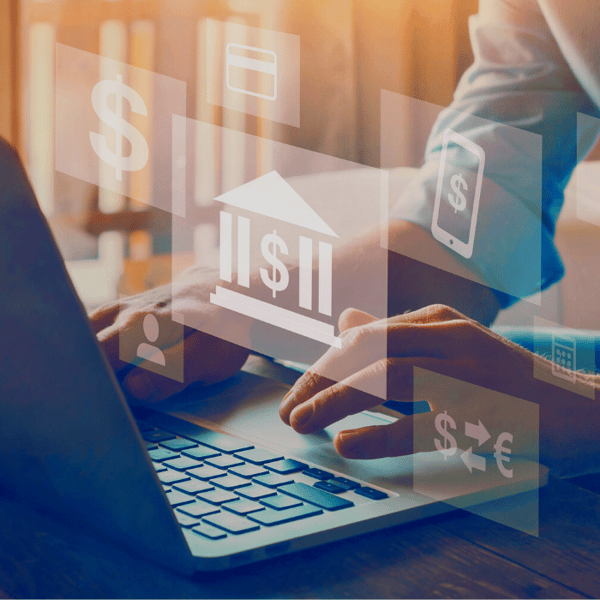 Banking Software Solutions We Implement
Banking & NBFC
Whether you're starting from scratch or replacing outdated software, TransformHub will provide you with a wide range of functional options and ensure that the greatest online banking practices are followed.

Create automated procedures and coherent data by expanding your company's analytical and forecasting skills with a single integrated solution.
Payment Gateway
TransformHub will help you deploy unique mobile banking software adapted to your specific needs, based on decades of expertise in mobile app development. Our software solutions contain both fundamental and sophisticated features and range from basic to A-class mobile banking apps.

Rapidly deployed solutions may scale up immediately, meet client demands, and provide back-office efficiency while improving the front-end user experience.
Digital Lending Services
The first step in establishing an amazing user experience in the digital lending process is risk underwriting. We use cutting-edge technology to integrate new sources of data that help us better understand both consumers and non-customers, such as interrelationship maps, digital footprints, and PSD2. As TransformHub is the Best Digital Transformation Company, we provide a tailored product and smart experience for each consumer by combining all sources of data with powerful analytics.

For a variety of organizations, corporations, and individuals, we provide a uniform, seamless digital borrower experience while enhancing customer onboarding, raising transparency, and optimizing back-office processes.
FinTech
TransformHub has been at the forefront of the FinTech movement as one of the best organizations for bank account data gathering. TransformHub has remained a market leader in this space, offering comprehensive financial APIs for aggregation and account verification. We're also a pioneer in developing personal financial health and data analytics solutions.

Utilize new technology and innovate to increase growth while reducing risk and lowering costs.
Digital Wallet Offerings
TransformHub's unique mobile payment solutions assure quick and safe transactions. Increase consumer loyalty by using NFC or QR-based mobile wallets to store digital information like credit and debit cards, retail coupons, loyalty programs, and more. Customers can make P2P (person-to-person) payments in real-time. For your company clients, we also streamline the account receivables procedure.

With the use of powerful analytics and deep data insights, we assist you in providing the most personalized client experience possible.
Get in touch with our experts to get your queries resolved.
What Can Banks Do with TransformHub?
Accept composability and observe the significant impact it has on your company.
Swiftly launch modular digital platforms
Create client interaction portals for "basic" retail banking requirements like managing virtual cards, deposit accounts, and loans by partnering with one of the ideal Digital Transformation Companies in Singapore. For business clients, create unified dashboards and account management systems.
Efficiently create a contemporary internal user experience
Modernize internal programs including cash management, credit & transaction history management, resource management, and dispute management. Launch cost-effectively innovative new user experiences for staff and vendors.
What We Offer
Consulting for digital transformation
As the best Digital Transformation Services Company, TransformHub works closely to enhance your IT environment whether you need to create an enterprise digital strategy or switch to a new technology platform. Our IT professionals can assist you pick the best platform, determine prices, and determine how banking solutions may transform your company.
IT-based customer experience consulting
TransformHub has a thorough understanding of what makes for a great customer experience as well as how software may improve each stage of the CXM cycle. Our CX specialists will walk you through a range of customer experience management solutions, assisting you in selecting and implementing the most appropriate ones.
Solution implementation
TransformHub can adapt to the changing demands of any financial environment at any size, thanks to its extensive knowledge in developing platform-based solutions. We may design a solution from scratch to represent the special business models of your bank, better meeting your demands than any off-the-shelf item.
Solution maintenance and support
TransformHub can provide support and maintenance services if you require a specialized IT staff to enhance your banking software. With TransformHub's assistance as one of the best Banking Solution Providers, you may acquire upgrades, design changes, performance optimization, and fixes for your financial systems while also lowering the cost of technical support.
Looking for more information?
Request a quote about our Banking & Digital Lending Services.
TransformHub

t

o A

ddress Y

our B

usiness C

hallenges
The following business issues in retail and corporate banking are effectively resolved by Transformhub Digital transformation solutions:
A decline in client confidence

Customer churn

Poor customer experience and loyalty

Sluggish cross-selling

Customer communication that isn't cohesive

Customer vision that is distorted

FinTechs' increased rivalry
Now is The Time to Think About Your Digital Strategy
Financial institutions of all sizes should learn to forecast, prioritize, and evaluate technology investment as the trend of global digitalization approaches retail banking. For instance, banks can use biometric authentication to confirm a customer's identification as the number of mobile devices with biometric capabilities continues to rise. Biometrics is distinct from other security methods, making it currently significantly more secure than any traditional security system. Banks need to consider developing a long-term plan that will completely restructure their business in addition to thinking about how to digitize the current goods and services.
In our IT consulting practice, and as one of the best Banking Solution Providers in Singapore, we provide companies advice on how to build adaptable software systems that can be quickly modified to meet the demands of a market that is changing very quickly and how to form collaborations with FinTech companies to spur innovation.
Contact Us
We are always open for a discussion